Best Outdoor Bars Trevose PA

While winter is best spent cozied up inside, summer is when you want to head outside to enjoy the warmth and sunshine. A great way to revel in the season is on a patio with a cold drink and a tasty meal.
So, when summer hits, celebrate it at one of these outdoor bars near Trevose, PA.
Ideal for Any Occasion
If you're looking for a great night out, then visit 59 Almshouse. Whether it's a Tuesday with family or a Saturday with friends, they have all the ingredients for a fun time.
You can enjoy live music or catch a sports game at the beautiful showpiece bar. When the weather is nice, you'll want to make your way to the patio bar for Happy Hour. From 4:00 PM to 6:00 PM, you can get one of seven draft beers at a reduced price. That, plus specially priced appetizers, means you'll save money while enjoying a quality meal—a winning combination!
Learn more on the 59 Almshouse Facebook page.
Family-Friendly Bar & Restaurant
The Irish Rover Station House prides itself on offering high-quality, affordable food and drinks. The expansive menu has something for everyone, from their famous gourmet wings to their delicious Filet Oscar dinner.
The newly redesigned bar seats 50 with big-screen TVs for sporting events. There are also fun events during the week, including trivia on Wednesdays and a DJ on Fridays.
The bar has 25 beers on tap, which you can enjoy inside or on the patio. They include Summer Shandy, HopDevil IPA, and Belgian White. On a warm, summer day, there's nothing better than sitting outside with a cold pint. Pair it with a tasty sandwich, and your day is set.
Check out upcoming events on the Irish Rover Station House Facebook page.
Devoted to Great Food & Great Friends
Johnny Apples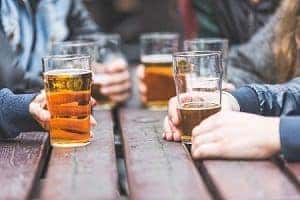 is a family-owned restaurant and bar, named after fathers John "Johnny" and Thomas "Apples."
Since the beginning, this establishment devotes itself to great food and friends, along with the wonderful community they serve. They pride themselves on offering that perfect combination of upscale comfort food and great service in a cozy setting.
The outside deck is perfect for having a good meal in the sunshine. You can get a drink at the outdoor bar and even enjoy some live music on various nights.
Visit Johnny Apples on Facebook to see who's playing on the deck tonight.
Commemorate Summer the Right Way near Trevose PA
When the weather is nice, you'll want to be outside as much as possible. If you're looking for a great hotspot to celebrate summer, then visit any of the outdoor bars near Trevose today!