Brake Repair Near Me

If you're searching for a "brake repair near me", you're in the right place! At Faulkner Mazda Trevose, we pride ourselves on being a one-stop shop for all needs of car owners in the Trevose, Langhorne, Bensalem, and Philadelphia areas.
One need we specialize in is brake repair services. On this page, you'll find more information about how to spot problems with your brakes and how we can help you fix them. Read ahead to learn more, then get in touch to schedule your break repair!
Do You Need Brakes and Lights Inspection?
Grinding Noise from Brakes: Identify the Issue
New Brakes are Squeaking: Is Something Wrong?
How Do You Know You Need a Brake Repair?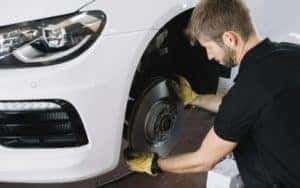 When you're driving, you use your brakes a lot. This makes problems with your brakes both easy to spot and important to treat early on to prevent damage and harm. Some of the most common symptoms of brake problems include:
Strange noises when you brake, like grinding, squeaking, or squealing
Vibrations coming from the brake pedal and/or vehicle as a whole when you brake
Mushy pedal or needing to push down extra hard on the pedal to stop
Pulling to one side or the other without turning the steering wheel
Other symptoms could occur when your brakes are experiencing a problem and sometimes symptoms won't present themselves at all. That's why it's important to have your brakes routinely checked by a professional.
How Faulkner Mazda Handles Brake Repairs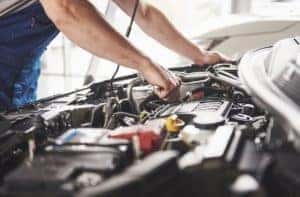 When you bring your vehicle into Faulkner Mazda Trevose for brake repairs, you can count on us to get things back to normal in a timely fashion. Our team of professionally trained service technicians works quickly and effectively to get things back on track so that you stay on schedule.
Our service technicians have years of experience that help them to diagnose even the smallest problems. After a brake repair appointment with us, you'll drive off the lot confidently knowing that all of your problems have been taken care of.
Ready to Schedule Your Service Appointment?
Now that you know a bit more about brake repairs and how we at Faulkner Mazda Trevose can help you out with them, we hope you'll think of us next time you're in need of brake repairs. Think that time might be now? Drivers in Trevose, Langhorne, Bensalem, and Philadelphia can schedule a service appointment today by giving us a call!