How to Check Tire Pressure

Were you aware that the average tire loses up to 1 PSI (pounds per square inch) each month just through normal use? Furthermore, this loss of pressure can often fluctuate greatly depending on your driving habits and outside temperature.
Knowing these facts, the team at Faulkner Mazda Trevose Service Center encourages drivers throughout Trevose, Langhorne, and Bensalem to check their tire pressure at least once per month to maintain healthy performance and safety standards.
To see just how simple this bit of routine maintenance can be, continue reading our helpful guide and don't hesitate to contact us with any questions!
What Tools Do I Need To Check My Tire Pressure?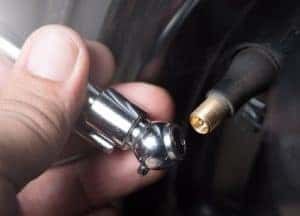 To save time and ensure accuracy, we suggest stopping by our service center where one of our certified technicians will be more than happy to assist. While you're here, they can also quickly inspect your tires for any signs of wear or damage.
You also can head to any local gas station or convenience store that provides a digital PSI gauge and air compressor. To check your tires from the comfort of your home, you'll need to first acquire the following items:
Vehicle owner's manual
Air compressor
Tire pressure gauge (preferably digital)
How To Check Tire Pressure
The PSI level your tire requires will depend heavily on both the tire and vehicle type. You should be careful not to under/over inflate your tires as it can lead to things like poor stopping power and decreased fuel efficiency.
Your vehicle's owner's manual will be able to tell you the exact PSI level each tire requires. You can also typically find this info on the inside of your driver door panel. Take a quick mental note or jot this number down on a piece of scrap paper before performing the following steps:
Park on a Level Surface. For the best PSI reading, check your tires either first thing in the morning or after dark when outside temps are coolest. You should also avoid checking them after a long drive, as friction causes your tires to expand and affect accuracy.
Insert the Digital PSI Gauge. Uncap the tire nozzle and insert the gauge pin making sure not to let any to leak from the tire. Take note of the PSI level and repeat with each tire.
Refill the Tire. Using the air compressor, fill each tire up to the listed PSI level making sure not to overfill the tire.
Tips on Keeping Healthy Tire Pressure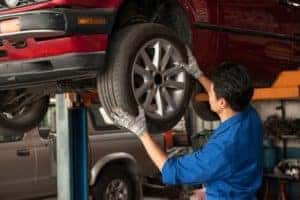 Beyond checking your PSI levels each month, we also stress the importance of rotating your vehicle's tires every 5,000-10,000 miles. Doing so allows each tire to wear down evenly, greatly extending their overall usage and reducing the risk of a flat.
You also should regularly keep an eye out for any visible signs of wear, including cracks, sidewall bulges, or treads that appear excessively worn down.
Schedule Tire Service Today!
At Faulkner Mazda Trevose, our team of friendly and knowledgeable service pros can help you stay happy and safe for all your trips around the Philadelphia region and beyond!
If your tires need a little TLC, simply drop by during service hours or go online to schedule an appointment that best fits your busy schedule.