How to Read Tire Size

Your tires are an integral part of your vehicle's performance and safety, and it's important to know a little bit about them to ensure your car is running smoothly at all times. A big part of that is knowing about your tire size — but where do you begin? Drivers from Trevose, Langhorne, Bensalem, and Philadelphia have all been asking about the ins and outs of calculating tire size.
Our team at Faulkner Mazda Trevose has compiled some vital information on how to read tire size, so you're armed with the knowledge you need. Read on to learn more about calculating tire size, and if you have any more questions contact our service center to learn more!
Tire Service near Me
Tire Type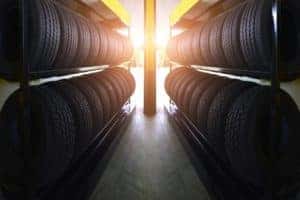 Take a look at the sidewall of your tire. Odds are you'll see a bunch of different numbers and letters. While they may seem a bit puzzling at first glance, on closer inspection you'll learn that those numbers and letters can be used when calculating tire size.
Your tire type will be determined by the first letter. Usually this will be a P, indicating that you are in a vehicle that is suited for passengers. Some tires have the letters LT in front, which means that they are appropriate for Light Trucks. Consult your owner's manual for more information on your tires.
Tire Width
The first three digits in your tire size will tell you the width of the tires on your vehicle. The width runs from one sidewall to the other and is generally measured in millimeters. The measurement depends largely on the type of rim your vehicle utilizes.
Aspect Ratio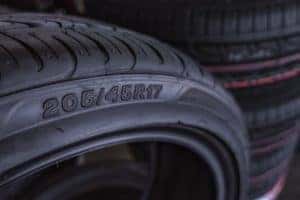 Following the width of your tire, there is usually a slash mark separating it from another string of numbers. The next two digits on your tire are the aspect ratio. This informs you of the ratio between the height and width of your tire and should be read as a percentage. For example, if that number reads 50, it means that the height of your tire is equal to 50% of its width.
Construction
After the aspect ratio of your tire, you'll see another letter. This letter informs you of the construction that was used in the casing of your tires. The letter will be one of the following:
R: This means radial construction, which indicates the layers run radially across your tire surface.
B: This stands for belted bias tire construction. This means that your tire has an added layer of steel or strong synthetic material just under the surface.
D: If you see this letter, you have diagonal bias tires. This means the layers run diagonally, as opposed to radially.
Wheel Diameter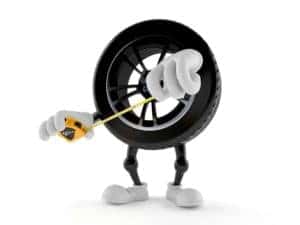 The number directly following your construction type tells you the diameter of your wheel. This number is traditionally measured in inches.
Visit Our Service Center Today
We hope this page provided you with a better understanding of how to read tire size, and the steps you should take when calculating tire size! And remember, if you have additional questions or concerns you can always visit our service center at Faulkner Mazda Trevose. Our expert technicians will work quickly and efficiently to get you back on the road in no time flat!
We've helped drivers from Trevose, Langhorne, Bensalem, and Philadelphia, and we can't wait to help you too, so visit us today!