Mazda Parts Department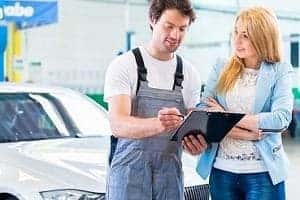 Your car will only run smoothly if all parts are working in harmony to create an enjoyable drive. At Faulkner Mazda Trevose, our experienced technicians are proud to service every Mazda that visits our service center. We've stocked a large selection of auto parts for drivers in Trevose, Langhorne, Bensalem and Philadelphia.
Whether you're in need of parts for your exhaust system, transmission, engine or other part of the car, our selection of original equipment manufacturer (OEM) equipment will ensure you get the part you need. Read on below to learn more about our parts service.
Complete Parts Service
Routine vehicle maintenance is important, no matter how long your car has been on the road. When you choose OEM parts from your local Mazda dealer, you know you're getting the best quality, fit, finish, appearance and warranty coverage possible. These parts are truly engineered and designed for your car.
The right tires provide the best possible fuel economy and performance. Stop on a dime with Genuine Mazda Brakes fit for your model. Or, make sure your car starts every time you turn the key with a Mazda high-performing battery.
Using OEM parts is important. You might be able to use other parts for your car, but it's possible they don't wear well as the months and years go on. The OEM parts we carry are covered by the Mazda warranty.
Available parts include:
Shocks and struts
Air filters
Brake pads
Tires
Batteries
And more!
Order Mazda Parts Online
Are you a fan of do-it-yourself auto repair? Well, you're in luck. Order Mazda parts online and take care of any repairs from the comfort of your own garage at home. All it takes is some brief information, including your make and model and the parts you're looking to order.
Once you've submitted your information, one of our customer service specialists will be in touch. This includes genuine Mazda accessories like all-weather floor mats, cargo nets, roof racks and weather-resistant car covers.
Visit Us for Parts Installation Today
If you're not a do-it-yourself auto parts expert, that's okay! Our experienced technicians will be happy to take care of installing parts at our Faulkner Mazda Trevose location.
For auto parts in Trevose, Langhorne, Bensalem and Philadelphia, contact our dedicated service professionals today!