Mazda6 Maintenance Schedule
Schedule 1 vs Schedule 2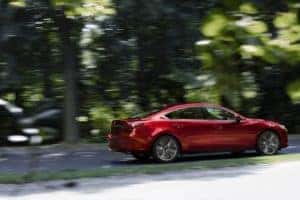 If you drive your Mazda6 under normal conditions, then you can stick to Schedule 1 for maintenance. However, if your vehicle mainly operates under the following severe driving conditions, then you'll want to follow Schedule 2:
Repeated short-distance driving.
Driving in dusty conditions.
Driving with extended use of brakes.
Driving on rough or muddy roads.
Extended periods of idling or low-speed operation.
Driving for long periods in cold temperatures or extremely humid climates.
Schedule 1 & 2 – 5,000 or 7,500 Miles
If you're following Schedule 1, then at 7,500 miles, you'll want to complete the following steps…
Replace engine oil and filter.
Inspect the disc brakes.
However, if you're following Schedule 2, you'll need to get maintenance completed every 5,000 miles. When you hit the first maintenance interval, you'll want to get the following work done…
Replace engine oil and filter.
Inspect engine coolant level.
Inspect function of all lights.
Inspect brake and clutch fluid level.
Inspect disc brakes.
Rotate the tires.
Inspect tire inflation pressure and tire wear.
Lubricate all locks and hinges.
Inspect washer fluid level.
Schedule 1 & 2 – 15,000 Miles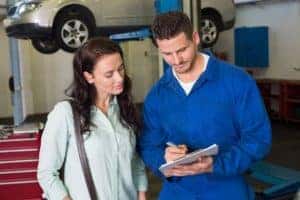 When the Mazda6 hits 15,000 miles on the odometer, Schedule 1 and Schedule 2 will follow their steps above and then add the following work…
Inspect fuel lines and hoses.
Inspect brake lines, hoses, and connections.
Inspect steering operation and linkages.
Inspect front and rear suspension, ball joints, and wheel bearing axial play.
Inspect driveshaft dust boots.
Tighten bolts and nuts on chassis and body.
Replace cabin air filter (every 25,000 miles for Schedule 2).
Schedule 1 & 2 – 60,000 Miles
Each maintenance schedule will follow the same tasks until you hit 60,000 miles. At this point, you'll want to inspect the hoses and tubes for emission for Schedule 1.
For Schedule 2, you'll want to replace the air filter, as well as inspect the drive belts.
Schedule 1 & 2 – 75,000 Miles
If your Mazda6 is still running well after 75,000 miles, then you've done a great job at keeping up with the routine maintenance.
At this point, the only new task for Schedule 1 or Schedule 2 is to replace the spark plugs.
Schedule Mazda6 Maintenance Today
If it's time to get maintenance done to your Mazda6, then schedule service at Faulkner Mazda Trevose. Our certified technicians have years of experience working on this midsize sedan, so they know it inside and out. As a result, they'd be able to get the work done quickly and have you back on the road in no time.
Don't wait. Contact our Mazda dealership near Trevose, Langhorne, Bensalem, and Philadelphia for vehicle maintenance today!