Synthetic Oil vs Conventional Oil

One of the simplest ways to ensure long-lasting performance is by changing your vehicle's oil every 3,000-5,000 miles. However, to make sure you're getting the best care, you should know what type of oil is best for your vehicle's needs.
The team at Faulkner Mazda Trevose Service Center has been helping Trevose, Bensalem, and Philadelphia drivers with this question for years. Continue reading to learn the difference between synthetic vs. conventional oil before your next oil change.
Synthetic vs Conventional Oil: The Basics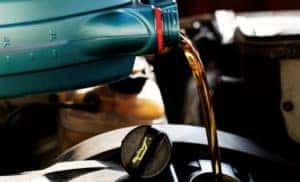 Motor oil is the lifeblood of your vehicle and is needed to lubricate the engine's system of moving parts and remove any dangerous particles. All motor oil is derived from crude fossil fuels before going through a complex distillation process. During this process, the oil's chemical compound is manipulated to suit the demands of a particular engine type. In some cases, additives are used to enhance the oil's durability.
Synthetic Oil
Synthetic oil contains added lubricants, which allow it to withstand extreme temperatures without affecting its viscosity. If you drive a luxury model or vehicle with a high-performance engine, you need an oil that can uphold its form and avoid overheating.
Synthetic oil is also useful if you regularly drive in chilly weather. When an engine rests in cold temperatures, the oil tends to thicken. Synthetic oil is engineered to withstand the cold and flow smoothly the moment you start the vehicle. Likewise, in extreme heat, synthetic oil does a great job keeping your engine components cool.
Another major benefit to synthetic oil is its durability.  Vehicles that use synthetic oil generally can go longer between oil changes, usually every 6,000 – 7,500 miles. Factors like your vehicle's age, driving type, and typical road conditions also play a factor, so it's best to consult one of our certified technicians when scheduling maintenance.
Conventional Oil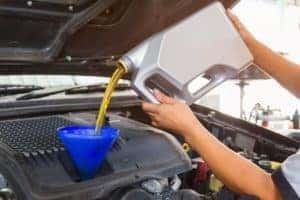 Conventional oil is used in vehicles with a simple engine design or with high mileage. It's also what's normally used when a new vehicle goes through what the manufacturer calls the vehicle's "break-in period." This generally is defined as the vehicle's first 5,000 – 10,000 miles when its internal parts are still settling.
Like synthetic oil, conventional is highly-effective at lubricating your engine and removing dangerous dirt and moisture that gets trapped inside. Unlike synthetic, conventional oil usually contains more impurities and tends to break down faster, meaning you'll need to schedule oil changes on a more frequent basis.
The one major advantage to conventional oil over synthetic is cost, due to its simpler distillation process. You can normally find several quality synthetic blends that come at an affordable price, but if cost is a priority, conventional oil is normally your best option.
Schedule an Oil Change at Faulkner Mazda Trevose
Dedicated to providing drivers throughout Trevose, Bensalem, and Philadelphia with honest and dependable care over the life of your vehicle, our team of service pros can answer all your automotive questions and needs.
If you're due for a full oil and filter change, simply stop by during service hours or go online to schedule an appointment today!