Tire Service Near Me
As the old saying goes—never skimp on what separates you from the ground. This is especially true when it comes to your vehicle's tires. Regular tire rotations and replacements are simple tasks that not only help ensure your overall safety, but also maintain your vehicle's overall performance and fuel-efficiency.
For decades, our team of highly-skilled technicians at Faulkner Mazda Trevose has been providing top-quality tire service for drivers throughout the Trevose, Langhorne, and Bensalem area. If you recently asked, "Where can I get a tire change near me?", contact our team today!
How Often Do I Need a Tire Change?

Depending on your driving habits, local road conditions, and the frequency you drive in a typical year, you should plan to change your tires every 40,000-60,000 miles. You also should make it a point torotate your tires every 5,000-7,000 miles. This will allow your tires to wear down evenly, maximizing their usage.
Driving on worn or damaged tires can pose a serious hazard, often resulting in an inconvenient breakdown or worse—a serious accident. The good news is that these risks can easily be avoided when routinely inspected by one of our certified technicians.
What Are Signs I Need a Tire Change?
While in between service checkups, it's important to check the condition of your tires at least once per month. This involves checking the PSI levels along with the tread depth. Tires with shallow treads make steering more difficult and, in some cases, lack the stopping power when needed in an emergency.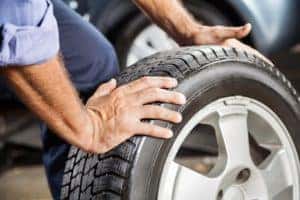 An easy way to check your tires' tread depth is by performing the penny test. Using a standard penny, insert the coin into the tire's groove with Lincoln's head pointed into the tire. If all or most of his head is obscured, your treads are in good shape.
If you can see most or all of Lincoln's profile, immediately replace the tire. Some other key signs include:
Bulges and blistering
Visible cracks in the sidewall
Excessive steering wheel vibration
Schedule a Tire Change Today!
If you live near Trevose, Langhorne, or Bensalem, and need a tire change near me, simply stop by during service hours or go online to schedule an appointment at Faulkner Mazda Trevose Service Center today!