Warning Signs of Tire Failure

To ensure that you're always driving on the best-possible tires throughout your regular Trevose, Langhorne, Bensalem, and Philadelphia commutes, Faulkner Mazda Trevose has come up with the following information to lend you a hand.
Continue reading to ensure you know what you're looking for, and find out all about how to best take care of your tires!
How Long Tires Last
Tires generally have a lifespan that ranges from 5–10 years or so. The factors that come into play here include how often the tires are maintained, the quality of the tires themselves, road conditions, climate, and your particular driving habits.
Check Your Tires for These Warning Signs of Tire Failure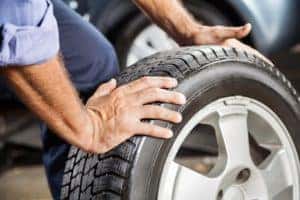 It's always a good idea to conduct regular checks to make sure that you're keeping up with the condition of your tires. These can be performed before you get started on your morning commute, after you've returned to the office from your lunch break, or at the end of the day when all your driving is finished.
Whenever is most convenient for you, take a quick walk around your vehicle to inspect each tire for the following:
Uneven Wear and Tear – If any of your tires are showing signs that they're wearing down unevenly, this could be an indication that it's time to have them rotated.
Separating, Swelling, or Cracking – The presence of swelling or cracking on a tire should be addressed right away, as the tire will need to be replaced. Additionally, a tire should be replaced immediately if its tread is beginning to pull away from the rest of the body.
Air Pressure – Take a look at each tire's air pressure; this should be done once every month. If there's an excessive amount of wear in the middle of a tire's tread, it's likely that there's too much air in the tire. If a tire is in need of air, the outer edges will wear down faster. Consult your owner's manual for the exact air pressure levels for your tires.
Letting Your Tires Go Too Long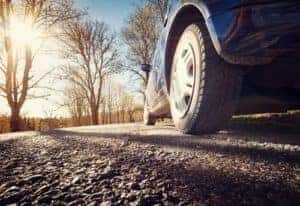 Be sure to have your tires checked out as soon as possible in the event that you've noticed any of the above conditions. Putting it off can result in further issues, including:
Less Control – When your tire tread gets worn down too far, the amount of traction you're able to get from them becomes diminished. This could usher in the possibility of hydroplaning and excessive slipping.
Less Protection – If a tire is too thin, it can be susceptible to perforations and blowouts.
Overheating – When the tread gets too low, it becomes harder for it to store cool air, which can potentially lead to overheating.
Stay Up to Date on Your Tire Maintenance
If you live or work near Trevose, Langhorne, Bensalem, or Philadelphia and you've been experiencing any of the above warning signs of tire failure, contact our team here at Faulkner Mazda Trevose. We can schedule you with an appointment so that our technicians can check it out!